Welcome to the City of Mertzon! Located along Spring Creek in the Concho River Valley, Mertzon is the county seat of Irion County and home to the Irion County Independent School District. Our beautiful live oak trees, spacious parks, and proximity to San Angelo combine to make our city a pleasant place to visit and a great place to live!
This website provides an additional communication link between residents, businesses, and the Mertzon city government. Our goal is to give our citizens quick access to city information and services. Please use this website to contact city staff, learn about public meetings, and find out what is happening in Mertzon. For utility emergencies, please call (325)315-0881
Beginning January 1st, 2023, the convenience fee for running a debit/credit card will increase from $1.00 to $2.00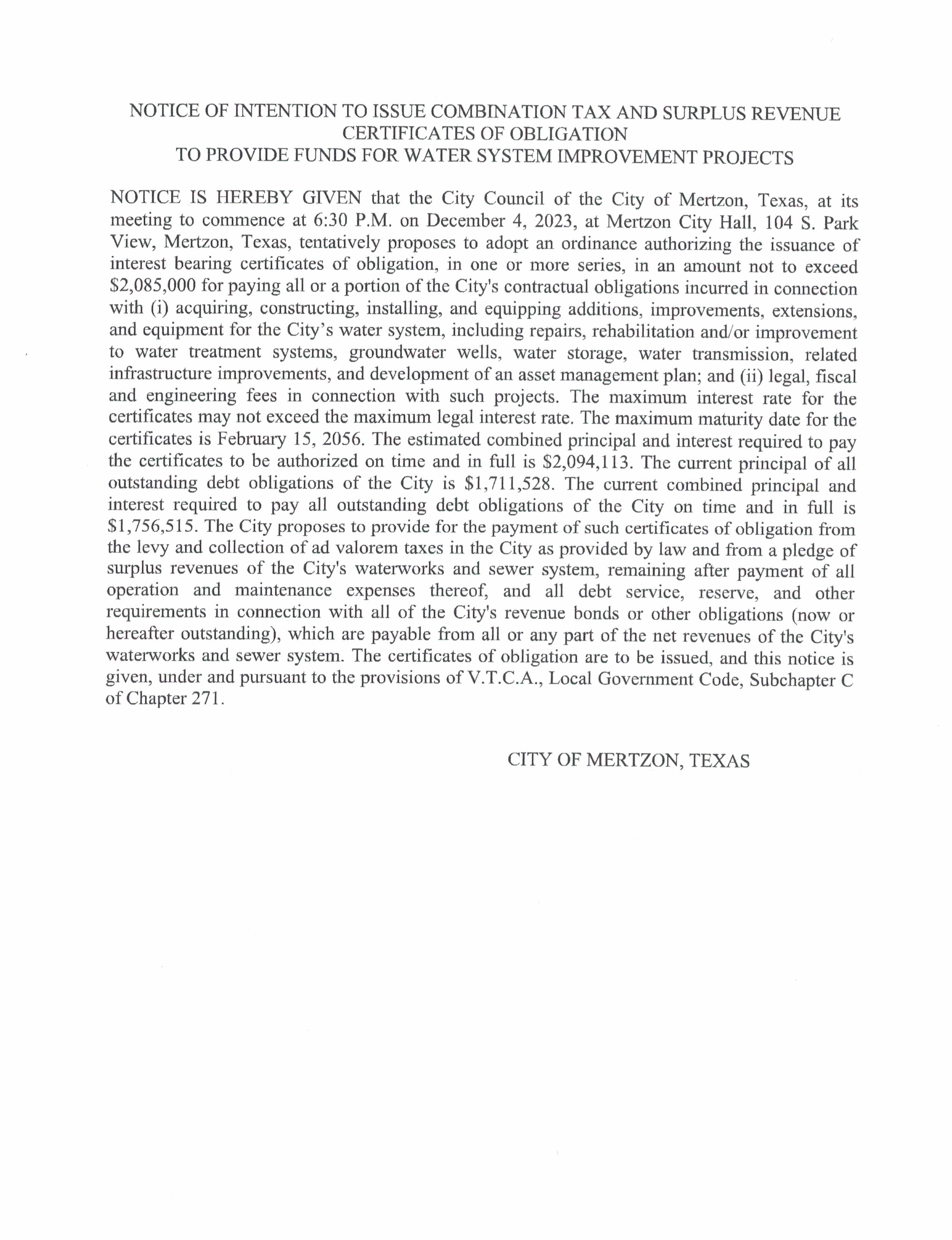 The City Council voted on 6/20/22 to Implement Stage 1 of the Drought Contingency Plan. We are asking all residents to please follow the guidelines below:

STAGE 1: MILD WATER SHORTAGE CONDITIONS
Restrictions:

(a) customers are requested to voluntarily conserve water and adhere to the prescribed restrictions on certain water uses, as defined in Section VII beginning April 1 through October 31.
(b) water customers are requested to practice water conservation and to minimize or discontinue water use for non-essential purposes.
(b) The City of Mertzon will adhere to restrictions set forth by the Best Management Practices.
Section VII: Definitions
For the purposes of this Plan, the following definitions shall apply:

Conservation: those practices, techniques, and technologies that reduce the consumption of water, reduce the loss or waste of water, improve the efficiency in the use of water or increase the recycling and reuse of water so that a supply is conserved and made available for future or alternative uses.
Non-Essential Water Use: water uses that are not essential nor required for the protection of public, health, safety, and welfare, including:
(a). irrigation of landscape areas, including parks, athletic fields, right of ways or medians except otherwise provided under this Plan;
(b). use of water to wash any motor vehicles, motorbikes, boats, trailers, airplanes or other vehicles;
(c). use of water to wash down any sidewalks, walkways, driveways, parking lots, athletic courts, or other hard surfaced areas;
(d). use of water to wash down buildings or structures for purposes other than immediate fire protection;
(e). flushing gutters or permitting water to run or accumulate in any gutters or streets;
(f). use of water to fill, refill, or add to any indoor or outdoor swimming pools or Jacuzzi-type pools;
(g). use of water in a fountain or pond for aesthetic or scenic purposes except where necessary to support aquatic life;
(h). failure to repair a controllable leak(s) within a reasonable period after having been given notice directing the repair of such leak(s).